Alberto "Beto" Perez, is the creative genius behind the fitness formula that has millions of people stunned at the changes in their bodies, minds and lifestyles.
Beto began dancing as a young boy in his home town of Cali, located in the southern part of Colombia South America. As a teenager he used his dance skills to help pay the bills - by choreographing for local artists and dancing in salsa clubs He later won a scholarship into the prestigious Maria Sanford Brazilian Dance Academy. After graduation, he became an instructor at the Academy, specializing in Latin Dance. Beto taught Salsa, Merengue and Rumba classes. He also taught Tap, Funk, Jazz and Modern Dance. Later, his interest in physical fitness led him to become a certified personal trainer and group exercise instructor.

One day, upon arriving to one of his classes, he realized he had left his traditional aerobics music at home. Improvising, he unpacked some of his favorite `Latin music tapes from his bag, popped them in the sound system, and taught his first Zumba class!
Within months of his impromptu "Zumba " class, Beto's new method caught on and he became so popular in Cali that music star Shakira hired him as a choreographer for her "Pies Dezcalsos" album.
In 2000, Beto decided to make the big move to the United States. Armed only with his personal charisma and unstoppable will power, he moved to Miami in search of the American Dream, It was a struggle in the beginning. but soon, in 2001, his innovative style caught the attention of two entrepreneurs, Alberto Perlman and Alberto Aghion. The three men joined together to create Zumba Fitness, LLC, a global company based on Beto's fitness philosophy.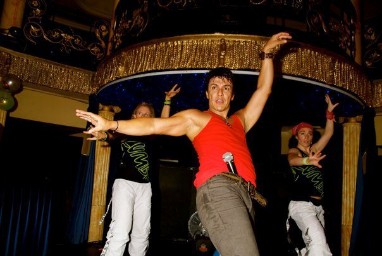 Zumba was created because of Beto's passion for Latin music, exotic dance rhythms, and fitness. He felt that group fitness classes needed a touch of fun - with party-like "no-thinking" elements - to make it appealing to the masses, not just for fit and coordinated participants. He wanted everyone, of all levels, to be able to participate in a Zumba class. His creation, Zumba, is a one-of-a-kind combination of dance and exercise, designed to put "FUN" back into fitness!